On the last weekend of the waiting period the Hungarian Kitesurf Cup took place on Balaton. Also know as the Balaton Királyai (King of the Balaton). Tomi from our team achieved some nice results.
Last weekend everybody gathered at Balaton Széplak but when the race would have been started there was not enough wind. Everybody was a bit sad, but during the week there was a nice forecast for the next weekend with a 2 day storm. It means perfect conditions, practise on Saturday, competition on Sunday with stable wind.
The wind was changing a little bit in the morning, so the Kitesurf Federation decided to start with the BigAir / Hangtime competition. There were a 70 minutes interval to perform the highest jumps. There were about the 6-7 best riders on the water for about 1 hour, performing stiftys on the stronger gusts.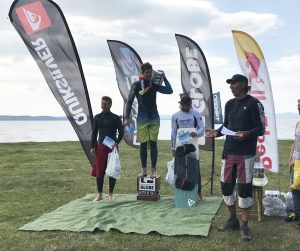 On Big Air:
Tomi (11.9m)
Füredi Balázs (11.1m)
Taller Robi (10.4m)
It was an amazing feeling to stand on the podium as a winner.
On Hangtime:
Taller Robi (6.3s)
Füredi Balázs (5.0s)
Tomi (4.9s)
After the Big Air event the freestyle competition took place. There were about 15 participants. The ones who thought can compete for the King of the Balaton title. There were a girl and woman participant also (big like for them).
The wind just picked up right before the start, so some riders stuck inside with a bit big kite, but they were also pushing the limits.
I was a bit nervous that I had to ride my 12m Obsession, which is a very powerful kite next to a 8m Bandit. Balala was also riding a 11m, so I thought, no worry, just focus on the tricks.
We saw many nice tricks:
Kovács Tibi were performing almost only handle-passes, he failed a lot, but he landing some nice tricks:
-Slim Chance
-S-to-blind
-F16
Füredi Balázs (the winner):
-KGB
-Dlim Chance
-Dangle pass
Many people tried to perform and successfully landed railey to blinds.
I was way overpowered, only tried 2-3 unhooked tricks. Many skilled riders took the risk and tried too difficult tricks. After I also crashed some big ones I sticked with easier airstyle and radical hooked in tricks I can land 10 times out of 10.
On the award ceremony there were again 3 riders who were on the podium in the Big Air and Hangtime competitions. This time Balala was the first.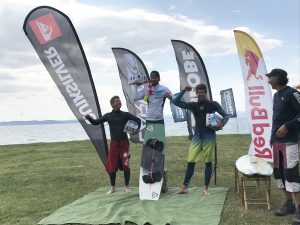 Füredi Balázs (F-one bandit)
Tomi (RRD Obsession)
Taller Robi (Kitetech Fly)
Girls (junior):
Széll Szimonetta
After the freestyle in a very stable wind the olympic course. It was maybe the most spectacular race. Balala, Robi, Tomi were compiting for this title in 3 different rounds.
First round: 1. Tomi, 2. Bala, 3. Robi
Second round: 1. Bala, 2. Levi, 3. Robi, 4. Tomi
Third round: 1. Bala, 2. Robi, 3. Tomi, 4. Levi
The final result based on the pointing system (1: 10p, 2: 8p, 3: 6p, 4: 5p):
Füredi Balázs (28p)
Tomi (21p)
Taller Robi (20p)
It was really nice to see some official kitesurf competition in Hungary. Big like for the organizers and for everybody who helped with the jury.
Congratulation to every competitor.