Chapter Greece – Nomad Kite Tour 2017 is a web series that shows our trip in Greece on 5 different kitesurfing places. The Episode 2 is created in Flatland.
Every Wednesday from 13th September to 11th October you can tune in for a new part of the series to https://vimeo.com/aesports
Our plan
Flatland was an unexpected destination of our journey. Since last year we fell in love with Lefkada and Limnos, we just wanted to improve our skills on these locations. In Lefkada during the 2 weeks we spent there, we met nice people who we were discussing the coolest spots nearby. We got very excited about Cape Drepano (check out the video on next Wednesday). Jana told us that during the way to Drepano we can also visit Flatland, the hidden paradise. After checking the map our plan was to visit
Flatland,
Cape Drepano,
Raches
before we took the ferry to Limnos. It seemed like a nice a trip with just one extra tank of fuel.
My plan was to arrive to a spot, then kitesurf in the afternoon. If the wind is blowing and we enjoyed the spot, we stay one more day, until we enjoy it. The reason is, that I want to find a place in Greece, where I can come back every year and improve my skills. For this I need a place like Lefkada. Same constant, reliable wind. Good camping spot. Good kitesurfing conditions. In Lefkada basically we have it. The flat water part could be more windy, and Milos Beach could be a little bit more friendly for camping. Over the last 2 years I spent 24 days in Lefkada. It was not possible to kitesurf with twintip (12m) only 2 days. I guess that is a good stats. So I'm looking for a place at least as good like this.
Arriving
We arrived here during the night after a sunset session at Milos Beach. It was a late drive during the night. The navigation system was bringing us thru paddy fields.
Where the hell are we coming?
We couldn't see anything when we arrived to the spot. We had a short walk on the peninsula and we met nice people.
First impression
After waking up in the morning we actually saw where we are. It was behind of nowhere land. Only 2-3 buildings were on the beach crafted from the simplest materials. During the morning the locals were watering the sand and compacting it, so it won't get messy during the day. I really liked the atmosphere of the place. It is a really nomad place. Only sand everywhere. Almost no bushed.
And we saw the area for kiteboarding.
YES, it was something we were looking for.
Wonderful flat area. Reeds on the water to have some extra fun. The choppy side was also nice. Small waves, shallow water. The locals said that a crowded day doesn't mean more than 10 kitesurfers. We were like:
Maybe we found paradise?
The first thing I started to worry about is that we didn't bring too much food, the closest city was 30 minutes through really bad roads. I immediately started to think about next year. How will we camping here with the others?
Afternoon – ready to kitesurf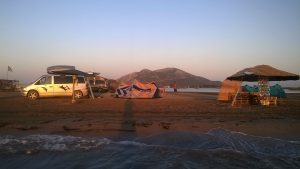 The forecast was 50%-50% for the first day. But it not really worked out.
Absolutely no wind. I was like WTF, let's go! This is not the place we are looking for.
As I mentioned, for me a spot won't be my favorite if the wind doesn't blow when I arrive there (same happened last year in Neretva). After having a fun afternoon with the locals we decided to drive to Cape Drepano.
Shit happens
The way was longer then we expected. After it got dark we decided to oversleep in a parking lot with our camper van. So we can rest enough. In the early morning we can drive to Drepano and we can have the perfect session after a rest day.
In the morning when I wanted to turn the GPS on I could find my phone. After 5 minutes of searching we realized what happened:
We got robbed during the night.
While we were sleeping, someone must have opened the front door of our van. Took 3 bags of ours. It was a bad decision not to lock the door, but it was hot as hell, so we wanted to have some air thru the side door. Also we got used to the friendly people on the beaches we visited. I never expected that we will got robbed.
We lost all our cloths. Kornel had only a boardshort and a T-shirt left (he was sleeping in it). I had 2 T-shirts and 3 boardshorts left. Actually we didn't wear too much clothes so they were in our bags. The bigger loss was my phone (costs around $200) and Kornel's passport and IDs.
After a long day at the police station we started to see things clearly. We are lucky that this was our loss only (no sports equipment was stolen). I had a backup phone with me and could buy local SIM card. We contacted the embassy and it turned out that Kornel can get a new passport.
In the afternoon as we were still closer to Flatland than Cape Drepano we decided to go back to the spot to rest. I had the hope that maybe we can still glide on that day. But at least we already know the conditions there we won't have any other unexpected inconvenience, such as we cannot camping there so we won't know where to sleep after we are extremely tired. Also I believe both of us had a little hope that we will catch some wind in Flatland and try out this paradise.
Wind starts to blow in Flatland
During the afternoon we still had no wind. It was not a problem, since I felt like this day is already not about kitesurfing. The biggest surprise was a little breeze during sunset. We could have a short session with the Alaia board on the choppy side. It was so revealing.
Felt like all our problems were blown away.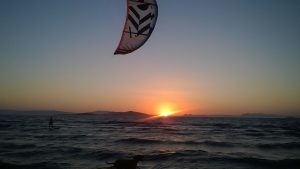 It was nice, but still, the place is not my favorite. 2 days without wind out of 2… During the evening we made new friends (Janis, Dorotka). Next morning Janis woke up with a huge smile. He said:
KAMAAAN ! Guys, it is going to blow perfectly today.
After 2 days I wouldn't believe it, but he said it with a huge confident. We couldn't leave the spot without trying it. We stayed. for one more day.
And YES! it was blowing!
It picked up around 3pm. We were gliding until sunset. We tried the choppy side, freerided between all the obstacles on the flat side. I was kiting 10m far from a cow. We had a video session close to the land. And the wind was still blowing perfectly, so we could practice new tricks also.
After this satisfying session we had a perfect dinner with Janis and his friends in the only "restaurant" on the peninsula. That was the perfect finishing.
For the next day the forecast wasn't good again, so it was time to finally leave this mysterious place.
Still not the best spot ever for me, since we had 1 good day out of 3. (Others say when they are lucky it is 35 out of 45).
But we certainly had the best session there.
We created a short video about the spot and our skills. Hope you will enjoy our edition.
Follow our extreme sports videos on: https://www.facebook.com/adrenalineendorphin/
Kitesurfing and Snowboarding and every incredible stunts are welcome in our Hungarian team.