Chapter Greece – Nomad Kite Tour 2017 is a web series that shows our trip in Greece on 5 different kitesurfing places. The Episode 4 is created at Raches.
Every Wednesday from 13th September to 11th October you can tune in for a new part of the series to https://vimeo.com/aesports
Arriving
After 2 nights at Cape Drepano we headed to Raches. It was a nice drive through the mountains of Greece. We heard good things about Raches, and at the first moment we had a good impression about it.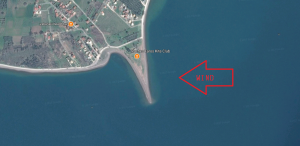 The place is at the Aegean Sea but really hided behind some islands. The Meltemi Wind blows here very stable almost every day.
About the half of the peninsula is covered with grass. It was a great feeling after 3 weeks of sandy beaches. Be careful there can be some spiky stuff in the area. There are big trees, providing some shadow in the morning. The camping area is dusty, so you have to be lucky to be close to some place with grass.
The place has 2 surf clubs. I would recommend Bill's place: Jardhi. Really nice stuff, neat people. Perfect place to chill with a drink or a burger while waiting for the wind.
First afternoon
The forecast said the wind for the afternoon. We had a short sleep in the shadow until the wind picked up.
Once you pump up your kite on the grass, you can walk to the shore and enter the water. I recommend to take your slippers to the water since the shore is a bit rocky.
We had a nice ride on the choppy side. With 12m it was perfect: steady wind, small chops. After that we started to discover the flat side (as the wind was strong enough for it). It was crowded since it was weekend. Some pro riders like Alex Pastor were practicing here too.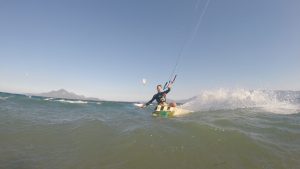 Then unexpectedly the wind dropped fast, so we had to call it a day without fully testing the spot. So we decided to chill on the field with a bottle of ouzo and watch the sky, talk with some new friends.
Second day
In the morning we already got used to the place more. The grocery store came right to our free camping. So we could buy some fruits and vegetables.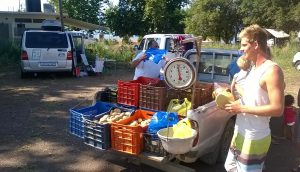 We got a lot of help from Bill, who is the owner of the Jardhi surf club. He was the nicest club owner I ever met. He offered us help with kite fixing, harness replacement. Also he was a nice company. Really chilled guy focusing on the needs of his customers.
The wind came earlier that day, and it was also stronger. We could kite all day long. It was still Sunday, so the flat side was still too crowded for us. For me the best moment was when I saw a huge tortoise in the water.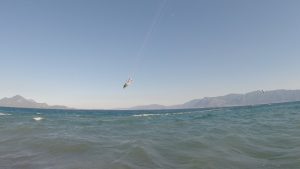 In the evening we met here Janis, Dorotka, and our favourie dog: Cloudy. Since they were visiting Flatland for just a short time and during the weekend there was a festival there, they decided to come back to their caravan.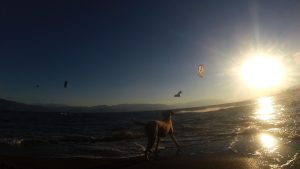 Third day – best day
After we really got used to the place and the forecast was perfect we had a wonderful day here. For me it was the 2nd best session during the whole trip.
In the morning we had to visit a hospital, so they would remove Kornél's stitches from his arm. (He had a foiling incident in Lefkada. The 4 stitches in his arm didn't stop him from riding).
After we arrived back to the spot the wind was already strong enough for a 9m new-school freestyle session. The flat area was empty since it was Monday, and the locals only come in the afternoon. The session was super nice.
Kornél first didn't ride, because he should have kept the water away from his wound for 3 days. But after seeing me on water he couldn't miss it. We also took some videos and photos at this point.
Tricks I landed:
F16
Backroll to toeside surface pass
My nicest S-Bends
Tantrum
Also I was practicing air-passes (313, back mobe)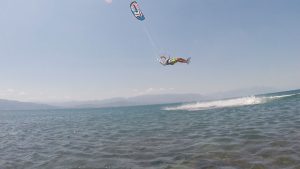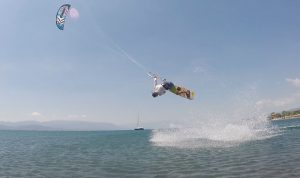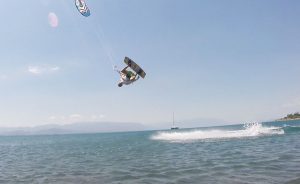 In the afternoon local pros and Alex Pastor joined us. They performed crazy tricks:
Double S-mobes
Double air pass
Toeside slim-chance
It was awesome to ride with them.
In the evening we had a nice grill with our friends. We will never forget that dinner.
Next morning we started to head to Kavala to catch our ferry to Limnos. Keep updated to read article about the last episode.
This was a place I would really come back to kite again. Thanks to the a steady wind and good infrastructure some people say this is the best spot in Greece.
We created a short video about the spot and our skills. Hope you will enjoy our episode.
Follow our extreme sports videos on: https://www.facebook.com/adrenalineendorphin/
Kitesurfing and Snowboarding and every incredible stunts are welcome in our Hungarian team.