After the big success of the Normafa Chinese Downhill the N'Joy Service decided to organize a big air event. So as the late winter continued in Hungary the fun activities reached a whole new level.
Before the competition our team had several practices on Normafa Hill. Mostly after sunset in the dark, but Gergő brought some lights, so we could practice in good conditions. Kornél tried to count the days we was training at Normafa. It was about 10 days. One day Jani came and took some great photos of us in the dark.
This time the event was organized for a Sunday afternoon, so a really big crowed could come to watch and participate on the competition. Our team's 2 rider decided to compete for the grand price. Kornél in the open ski, Tomi in open snowboard category.
After the U18 league the qualification was held. Kornél landed a 180, but unfortunately he couldn't land the 360. The competitors already performed some flips, so he couldn't continue in the finals.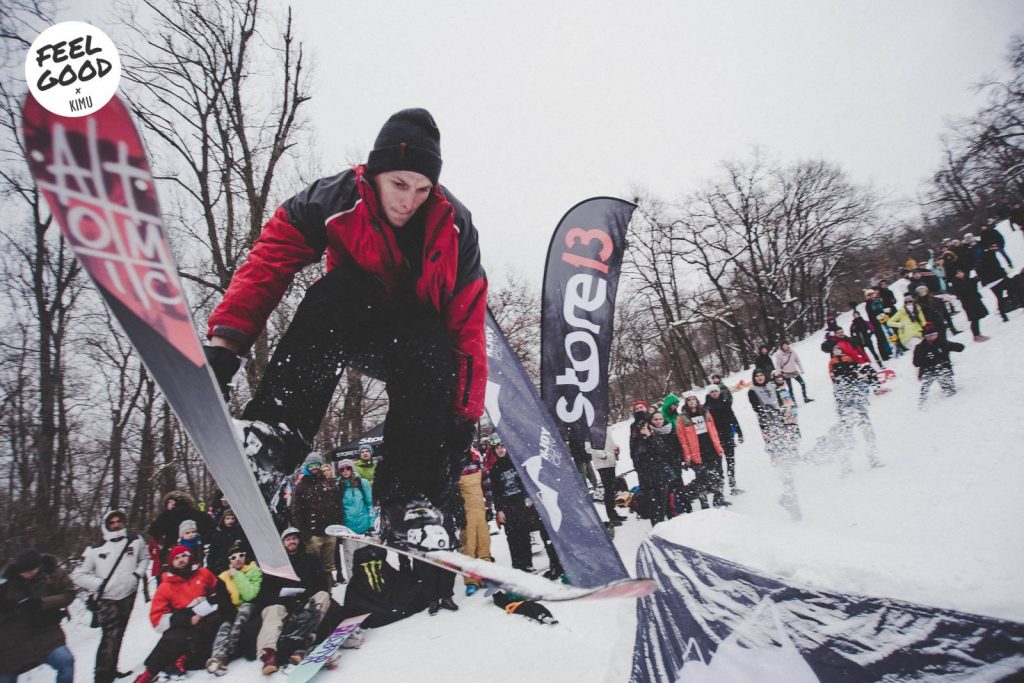 Tomi was more lucky. Since there were ~40 riders in the open snowboard category 12 riders qualified to the finals. It was enough for him to get 3 more jumps to compete for the podium.
I wasn't really ready. We didn't have a long warm up on the new kicker so I just did grabs in the qualification. I could perform my signature move, the method with style, so that may be the reason I could continue in the finals.
For the finals about 300 people gathered at the event to watch the best riders. The level was high, everybody performed flips, multiple rotations. As Tomi said, he also had to go for the Backflip or the Imot.
After a short break before the finals Tomi's first jump was a stylish method again to get used to the kicker.
Second was a backflip attempt, but due to some over rotation he failed the trick.
Last jump, he did it! Landed an Imot flip!
The feeling was amazing. Hearing your name. Gathering speed in between 2 lines including more than 100 people. The adrenaline just overflowed. Landing the trick was unforgettable.
Unfortunately the style was not enough to stand on the podium. We hope that the conditions will be the same next year, so we can compete again.