Spleene Kiteboarding is offering a cheap hydrofoil that works smooth in every conditions. I'll mention the pros and cons of this hydrofoil setup but if you are thinking in an affordable solution to start kite foiling this is your gear. I could even win the Hungarian Championships with Spleene Foil and Board.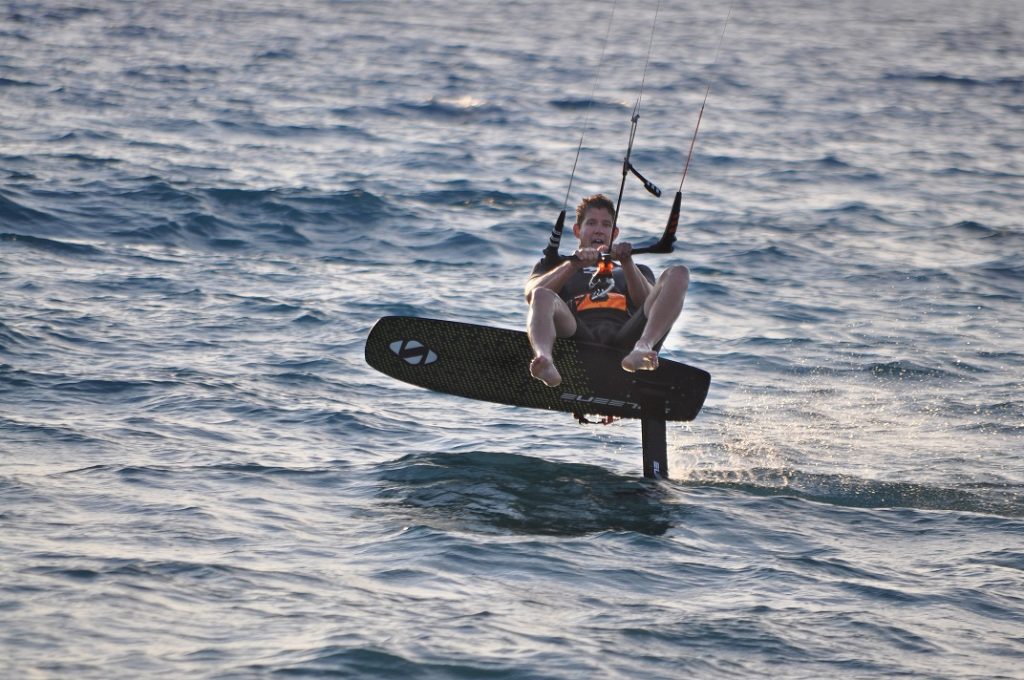 If you check the market of hydrofoils you will see a lot of expensive wings and boards. I don't prefer to pay that much for a gear that I may don't even like. What if I won't hydrofoil ever in my life? Did it worth to buy? Fortunately there is already a big second hand gear market on the web and on Facebook but if you are looking for a brand new gear you should check Spleene's offer. They usually selling whole kite foiling gear for a really fair price.
Setup
Basically you get a thin wooden board that will be easy to carry. I don't prefer the boards with bigger volume. That can help at the beginning because when you fall back to water from the wing it stays up easier but it is more difficult to travel with them, and later when you will be on an intermediate level it will be more difficult to do fast maneuvers with it. This wide board shape enables aggressive turns as well if you push the board close to the edge with your foot.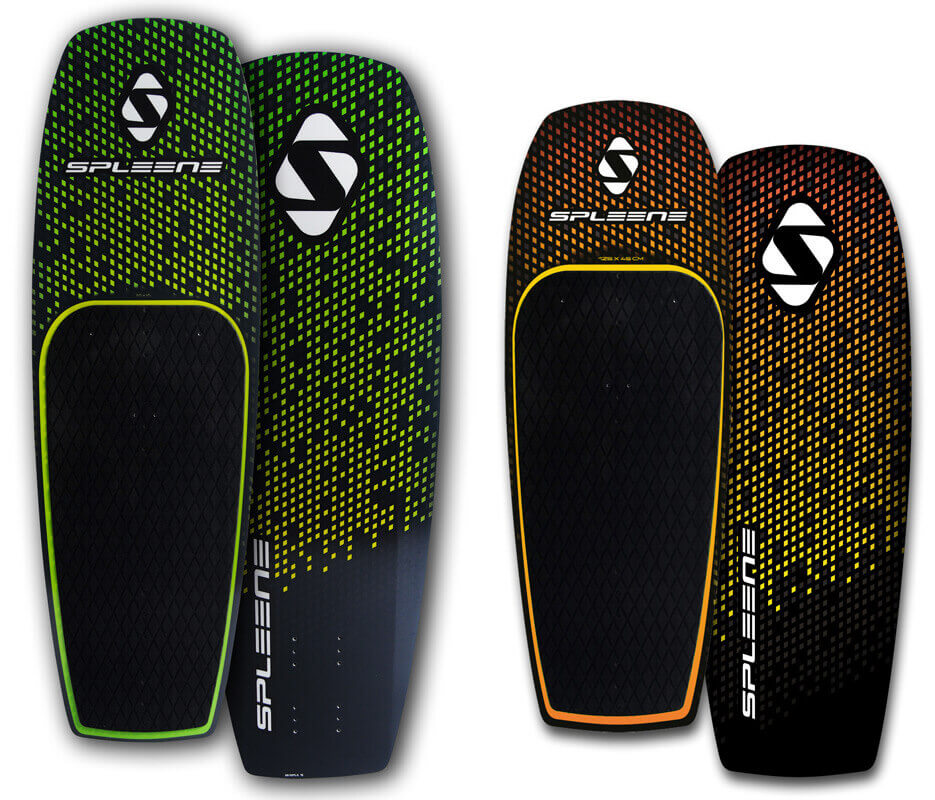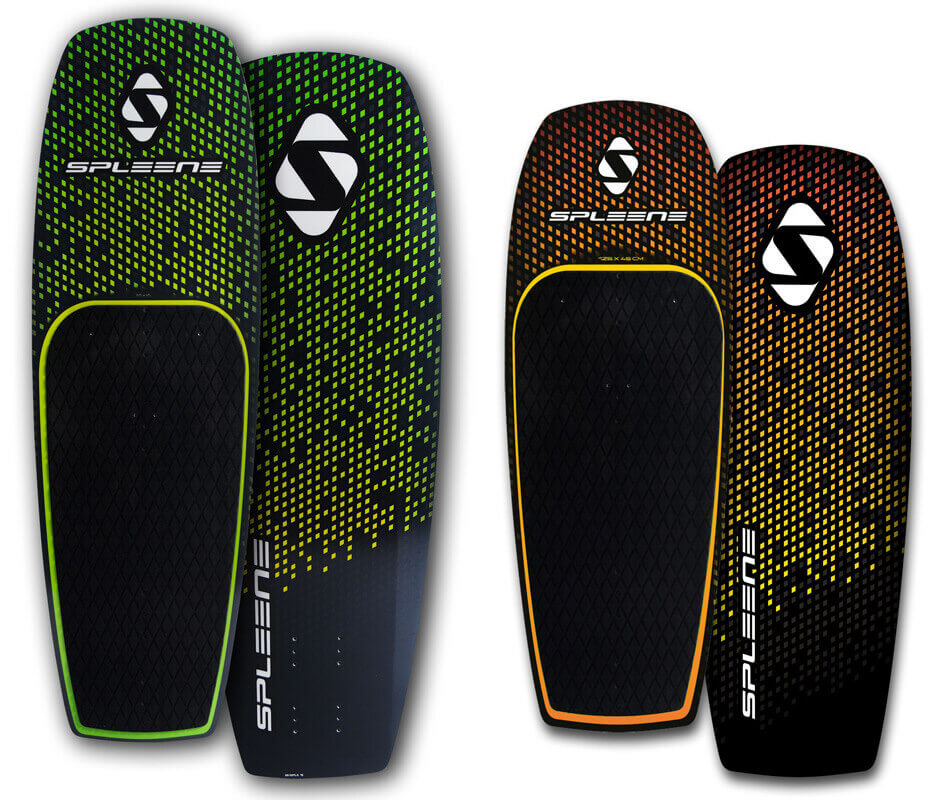 I use the bigger board (145cm) but now I'm thinking about changing for the smaller one (125cm) since I don't often need the extra recovery availability of the bigger board. I mean when I make a mistake and hit the water with the board the big length has the ability to stay in sliding above water. Then I can jump back on the wing. The smaller board may be stopped by the water since the nose of the board can drill the water easier.
It is possible to order 2 different sizes of masts. I only used the 90cm (standard) sized one. People say that it is easier to learn with a shorter mast. I've never ridden any of those. If you are kitesurfing in a place where the waves are not high you may be okay with the 60cm mast because it will be easier to learn kite foiling with it and later it will be easier to learn advanced maneuvers. But if the waves / chops are high you definitely must have to change for 90cm mast sooner or later to be able to ride between bigger waves.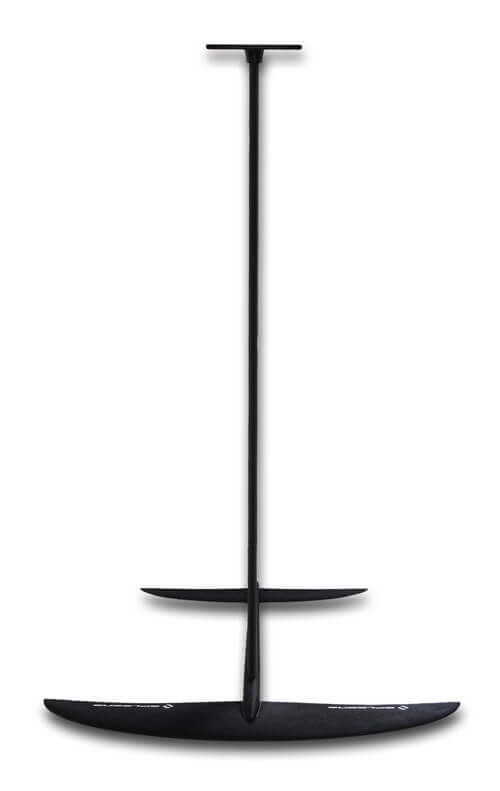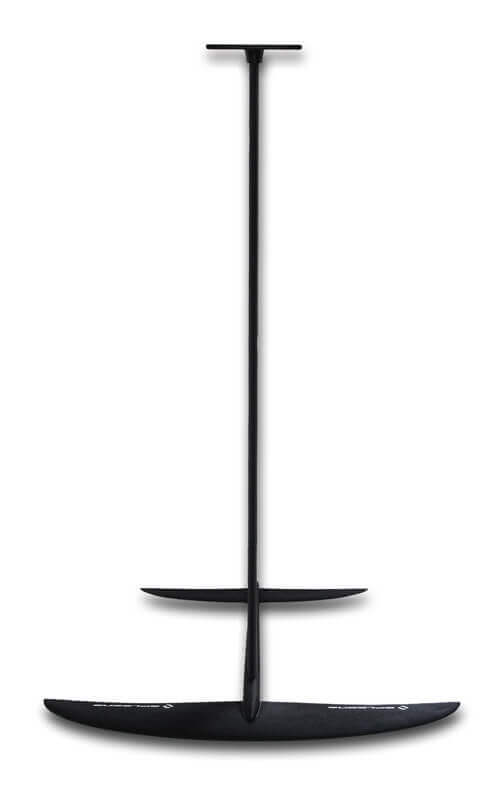 Basically the package arrives with a freeride (medium sized) wing. This is the best one. It starts early and easy to do all the turns at tricks with it.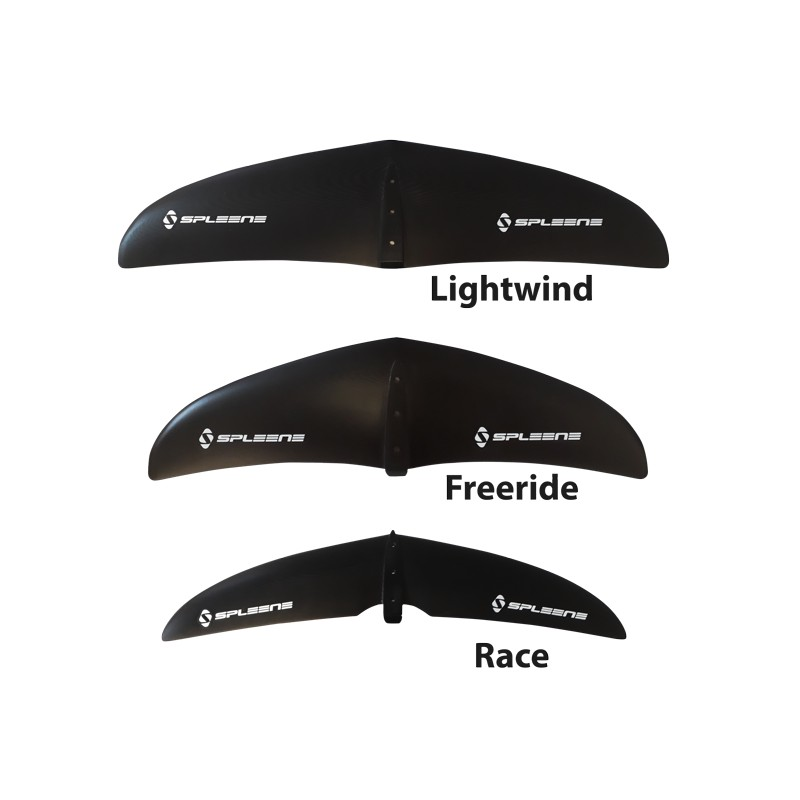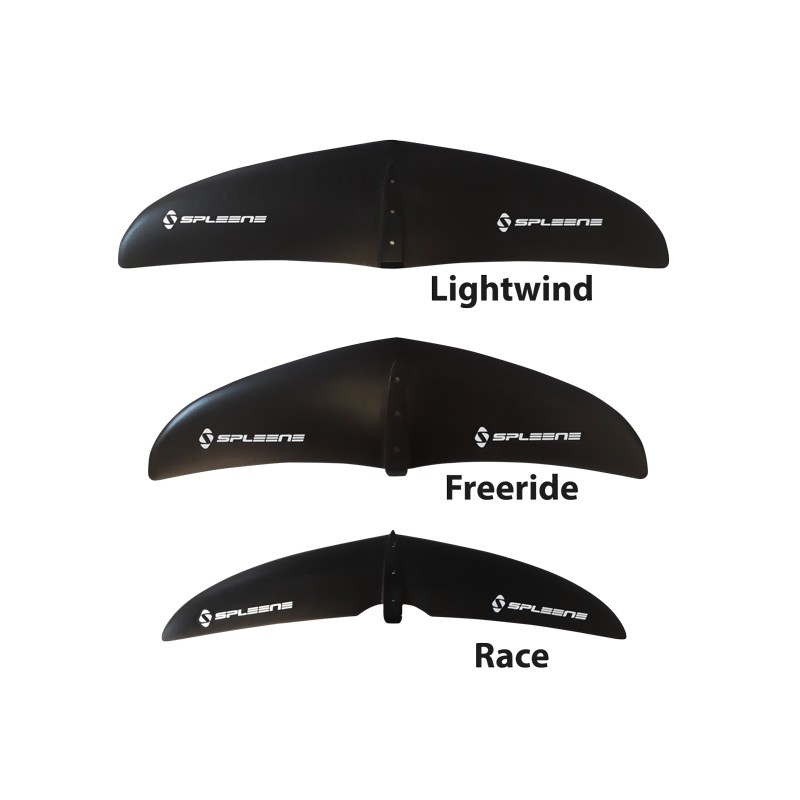 You can order a lightwind wing that will offer a little easier start in lighter winds but the difference it not big so it doesn't give that much to your session than removes. I didn't feel that it gave me too much extra stability but once I go upwind hard, and bend the board, the edge of the lightwind wing can come out easier from the water that will cause some instability. This may not happen at your spot but I was riding on Lake Balaton where the wind is super gusty and sometimes I have to "edge" really hard so I don't get dragged off the board when the wind is picked up.
The freeride wing is stable enough to allow you to learn advanced tricks easily and fast enough to be a playful toy not like the wings that most brands advertise nowadays.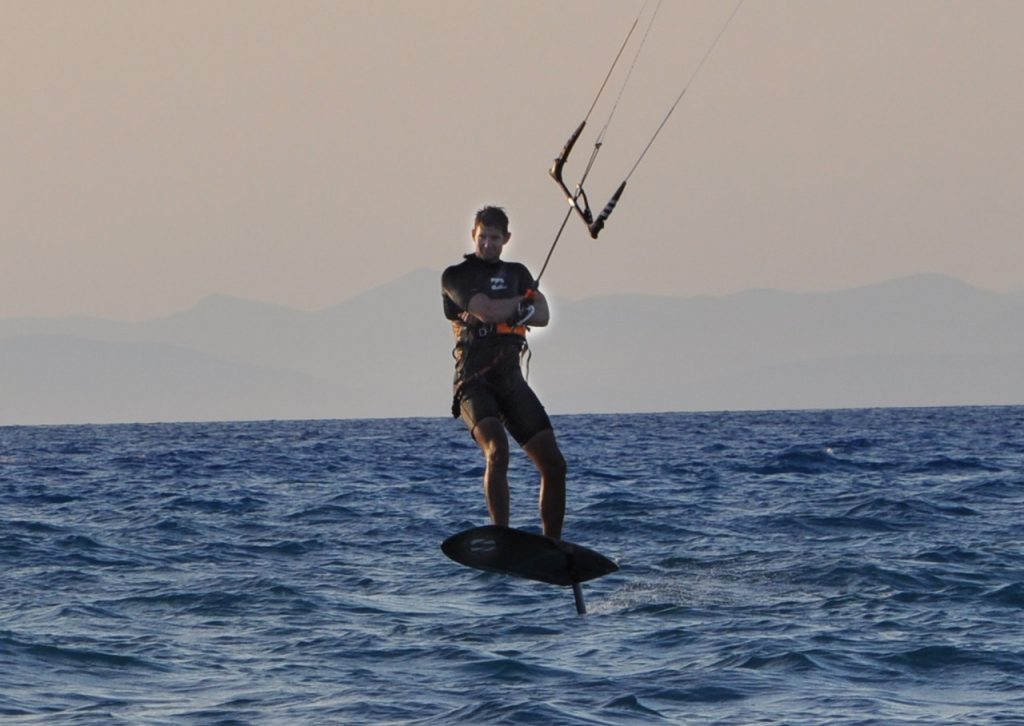 The race wing is only suggested for the ones who has already an experience with hydrofoiling. If you like to go fast it is your choice. For me it was more difficult to sit on the board when I used the race wing. Advantage of the race wing is that you can bend the board even more when edging.
If you check the basic image drawn by me below, you will see the difference of the big lightwind wing and the race wing.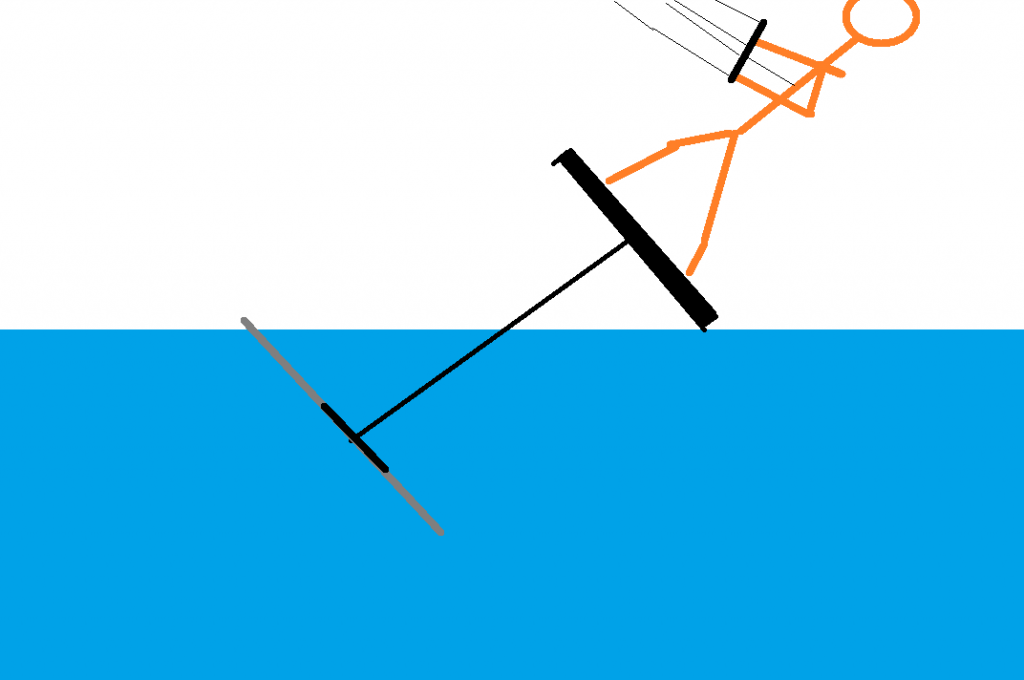 The race wing is drawn with black. It stays easily under water. The lightwind wing is drawn with grey color. As you can see it can "jump out" from water more easily. That will cause a crash. In a water that is not so flat like on my image this can happen even easier.
I say that the best solution is the freeride wing.
Learning kite foiling
This setup is okay to learn hydrofoiling with. The only difficulty was it's weight. Since the best foils are created from carbon they weight less than Spleene's aluminium mast and wings. Of course the price is totally different.
This can be an issue when someone is just getting started with this beautiful sport. I can easily start kiting without touching the board with my hands now but when you are on your first tries you will have to put the board on its forefront and of course it is a little bit more difficult to operate with something heavy on the water. Now it doesn't effect my kiting at all.
Once you are standing on the board and trying to go on the wing I suggest you to stand a little asymmetric.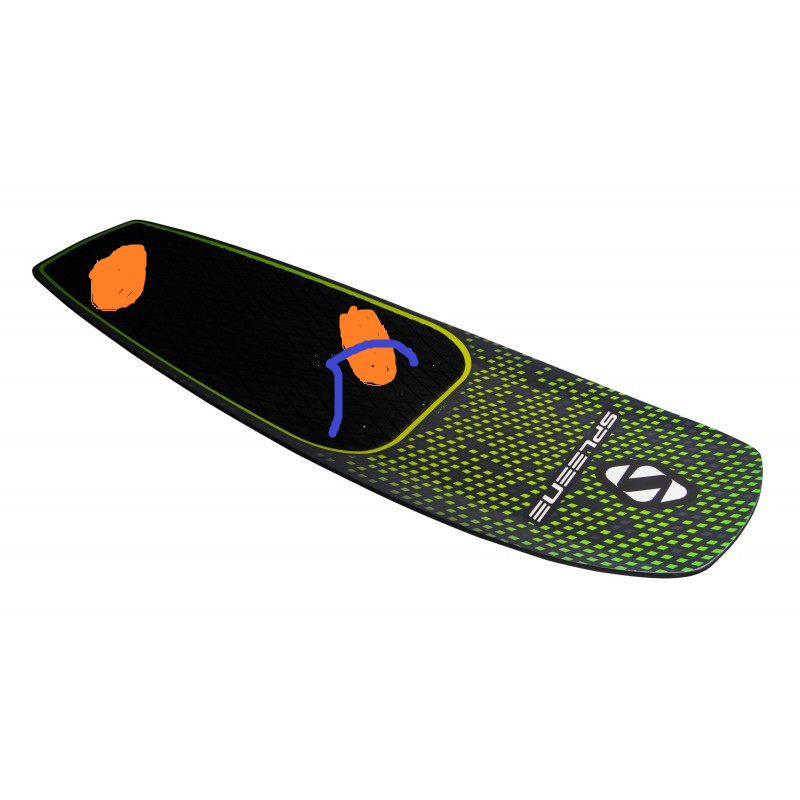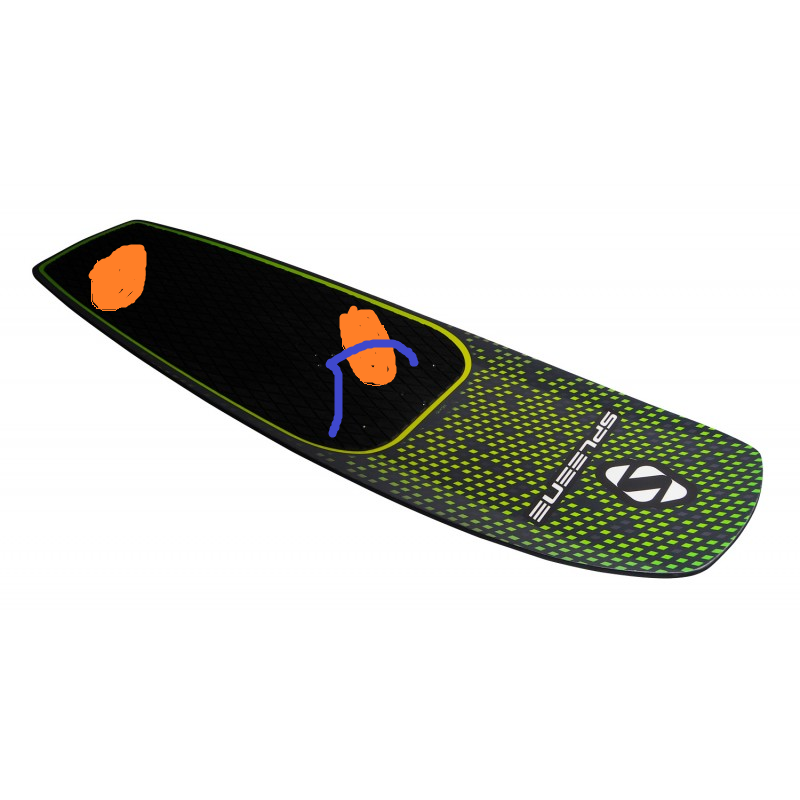 As you can see on the above picture I stand not exactly on the middle line of the board but my front foot is a bit closer to the heal side and the rear foot is closer to the toe side edge. This gives a more natural handling for the board.
I ride without straps but if you apply the straps the front straps will support this stance. As you can see I drew it with blue. This is how I suggest you to apply the straps if you want to use them (only to the front). The back one may be a good idea only in the beginning. It will help you not to crash when you make mistakes while learning. Once you are experienced try it with just the front straps.
Advanced levels
I feel like I could learn easily most of the stunts with this foil:
Jibe
Tack turn
Sitting
Toeside run
Even a toeside tack
If you buy a bigger wing you will learn these earlier. My friend who is using some slingtone wing can even jibe while sitting. But the price only for the wing is almost as much as this whole package and the riding doesn't feel that good. I prefer the wing size of the freeride wing. This makes you feel like riding a snowboard in deep powder.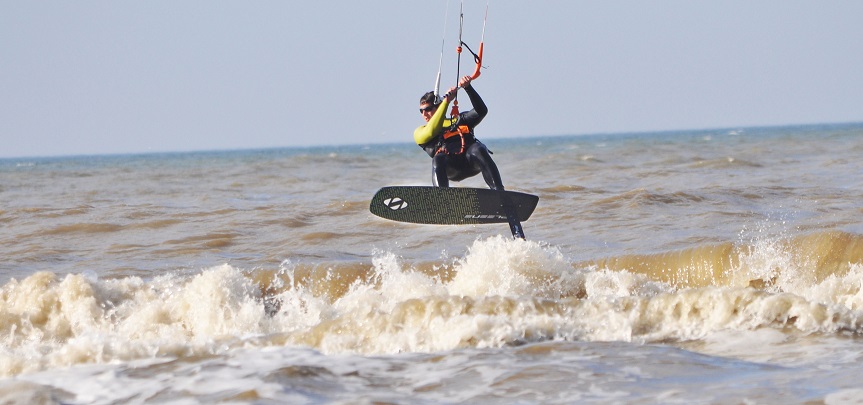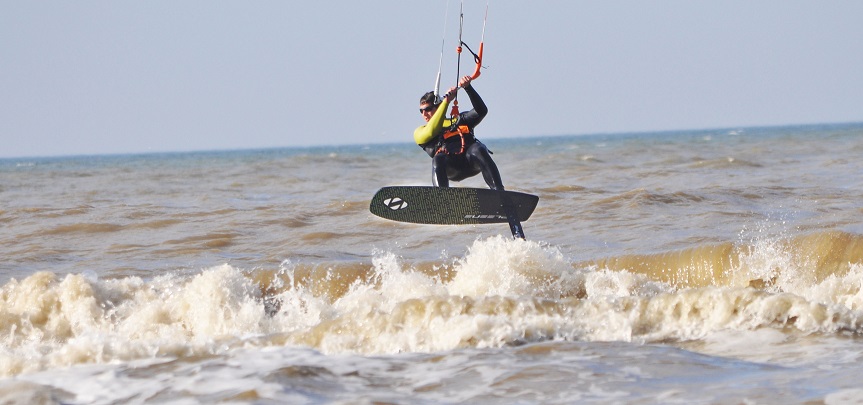 What I would change on the board is the edges. During difficult moves like the Kite 360 (that I actually never accomplished) or sharp turns when I crash and hit the edge of the board with my leg that can really hurt. If the weight of the board was lighter the impact would be smaller. Or Spleene should make a little more rounded shape on the edge so it doesn't feel like a cut.
Summary
This second quality hydrofoil is for the ones who are interested in this sport. An affordable solution to learn the basics and it will always be your weapon when the wind drops. I have used this for more than 1 year. I hit reefs with the wing at high speed but not a single scratch occurred that affects its performance.
In the summer of 2019 I even won the Hungarian Kite Foiling Championship with this board.
Also Spleene just introduced their new Fabfoil. They say that the wings carry better so can't wait to test them. Maybe I'll also be able to do sitting jibe.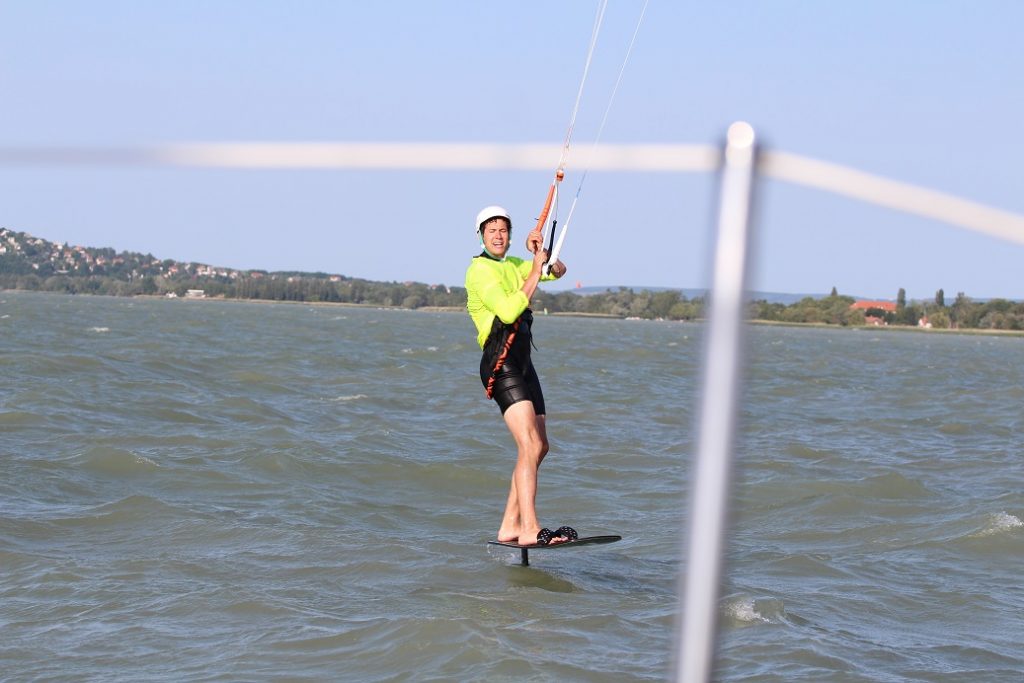 Videos
Check out a couple of my short videos using Spleene Foil.