The biggest event of the year is over. A nomadic summer tour chasing the wind and adventures. A 33-day-long journey by Shamu and Tomi. Visited Neretva (Croatia), Ulcinj (Montenegro), Lefkada (Greece), Limnos (Greek Island).
"In Neretva we didn't catch too much wind, so it was more like getting the feeling of the summer kite lifestyle. We decided to travel to Ulcinj before we could really test the Croatian flat water spot because we had to arrive on time to Lefkada, and the Ulcinj forecast was much better, we didn't want to miss any day with a chance for improving our techniqe.
Ulcinj was pretty nice. The wind in the afternoon was strong enough for big airstlye. Also we had a wonderful session in the sunset. Also able to perform unhooked tricks. The side-onshore wind makes long wave, but inbetween them, it is pretty nice for popping and landing.
I'm pretty sure the beach life was the best here. Nice beach bar. Beautiful ladies. Perfect sand. Too bad that they ask for 5 euro beach use. If you go there take some mosquito spray, there is a huge invasion after sunset. The night is a bit wet due to the humidity. If you are heading to this direction make sure you won't miss this place.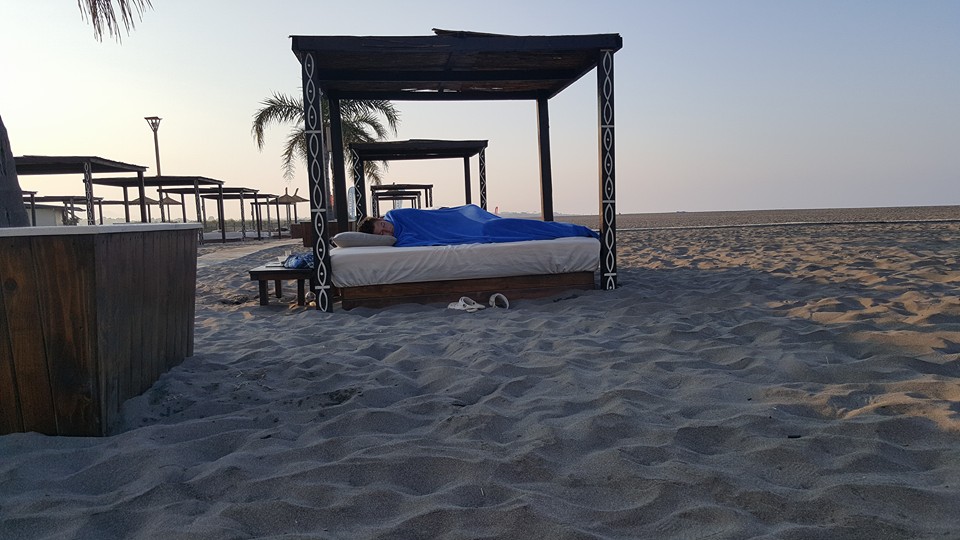 Later in an afternoon we arrived to our next spot. Lefkada offered the most for me. Two different spots for kitesurfing.
Milos beach wind strong wind. Choppy but crystal blue water. The wind is pretty strong even for kiteloops. Sunset for unhooked tricks. The beach isn't the best for camping there, it is rocky (really small rocks). We also heard sometimes the police also comes.
Other beach close to Agios Nikolas. The wind is weeker. The wind window is shorter every day. Sometimes the with a 12m kite I wished it was 3 knots more. Despite it I enjoyed this spot the most in my life. The wind is super stable. You can practise any freestyle trick in the choppy side also. But there is a lagoon with super flat water. If the wind is a bit stornger we could go there and practise anything we wanted. The beach is also perfect for camping, if you are lucky you can park on grass. The beach bar is nice.
We also had some nice company. Kiteline team's member Lajos came with Zsani. They had 4 students (Bálint, Levi, Raj, Szöcske). We were also teaching Adri. Also some other ladies visited us (Adlet and Berni).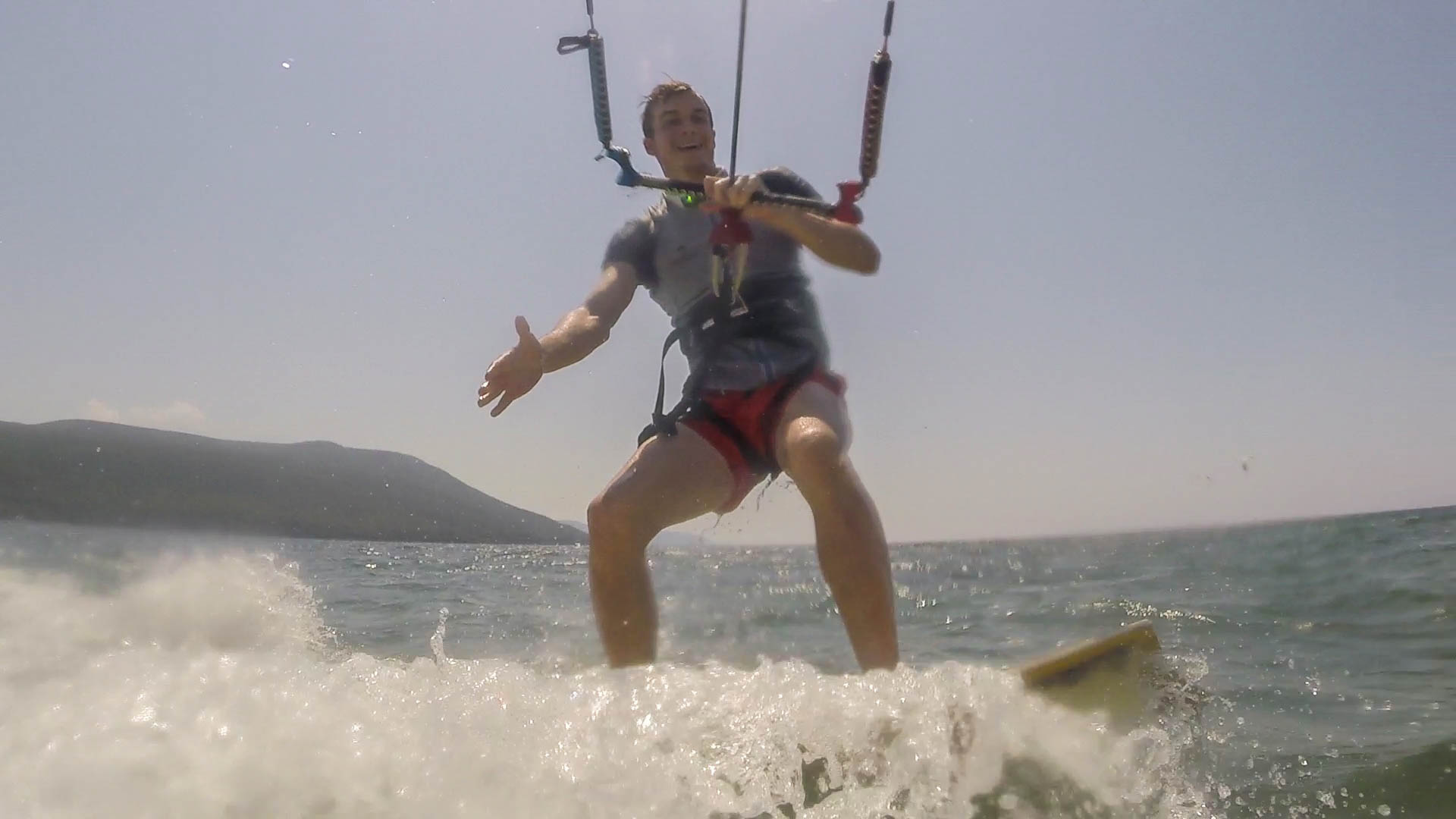 Limnos was the destination for the other half of our trip. It is an island with Meltemi wind. The wind arrived in the early morning and lasted until 3-5pm. On really windy days it was also windy during the sunset. We visited many spots.
Keros was not as good as we heard. It was too gusty for freestyle in the speed water. Further from the shore it was more stable but the waves weren't good for practising. If you want to kite in Keros I reccomend Fiki-fiki.
Here is a video about the upper part of it where you can find speed water
Magyar-falu. Above Keros there is an other bay. The wind is much-much better. It is choppy if you go to the direction of the open sea in the onside-shore wind. But it is good for high jumps in the other direction. For me this spot was perfect for improve my transition jumps. If you visit this spot also check the lake above. You can go upwind. Flat water and stable wind. I recommend to only go in there if it is connected to the sea (happens in early season). Otherwise the depth won't be enough, also you will meet dead fish and crabs with terrible smell. We tryed and tested the lake. It was enough for once in a lifetime. Also be careful, you are not allowed to kite there.
Kotsinas: Onshore stable strong wind with nice waves. After 3 o'clock it is a family beach. The wind stops earlier but mostly you get enough kiting before it, in this strong wind. After that you can check Magyar-falu for sunset session (maybe hydrofoiling, I tried it there). A pier makes the spot even nicer. Behind that there is flat water, but don't try you new tricks there, if you fail a big one you can land inside a restaurant.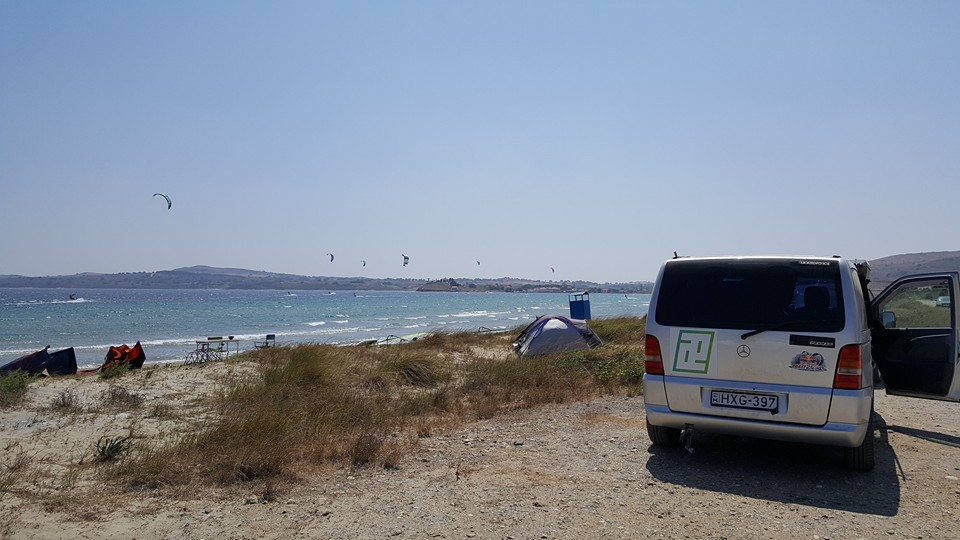 Gomati: Go there in strong wind. Early morning. You will have some nice wave kiting session there. Check this short video about it:
Placa: We visited it when the wind forecast wasn't too good. The wind is stable but the water is like you are in the middle of the ocean. Next to it there is an other bay with a port. Behind the port the water is flat but the wind was gusty. But it may worth a try in better wind conditions. Then maybe it is good for freestyle.
Airport secret spot: Other day without a good wind forecast we went to discover some cliff diving spots. Instead of that we found a place where the wind is strong due to the Ventury-effect. I even jumped over a small pier. Ask the locals also to find the cliff-diving spots.
I can tell you it was my best time of my life. Kiting 30 days in a row. Big improvement and big smiles."
Check out the road movie:
One of our videos was again selected by IKSURFMAG. The I can fly, which was created for Decathlon for advertising. Check it out:
Links on IKSURFMAG: